Week 1:
Nebraska (0-0) vs.
Fresno State (0-0)
Fresno St +28.5 Sep. 3 (7pm BTN)
Nebraska -28.5
Previous 12/26: W 37-29 vs UCLA
Upcoming 9/10: vs Wyoming (0-0)
WEEK 1
Nebraska (0-0) vs. Fresno State (0-0)
Nebraska -28.5 Sep. 3 (7pm BTN)
 
 
 
Previous 12/26: W 37-29 vs UCLA
 
Upcoming 9/10: vs Wyoming (0-0)
 
 
 
FRESNO STATE
SCORE
TEAM
OVERALL
WIN
LOSS
KIRK BRAGG
45-17
HUSKERS
0-0
 
 
SCOTT FLEMING
49-23
HUSKERS
0-0
 
 
ANTHONY GRAFTON
38-24
HUSKERS
0-0
 
 
CHAD SEARCEY
38-14
HUSKERS
0-0
 
 
CHAD FLEMING
42-14
HUSKERS
0-0
 
 
ROB HEITMAN
 
 
 
 
 
BRIAN GEARY
30-20
HUSKERS
0-0
 
 
CRAIG DEAVER
35-14
HUSKERS
0-0
 
 
JASON CARR
42-23
HUSKERS
0-0
 
 
CLARK
 
 
 
 
 
MIKE DIAL
42-21
HUSKERS
0-0
 
 
AARON NEESER
 
 
 
 
 
CHAD EVANS
 
 
 
 
 
Here we go boys!  Another great year of Husker Football and really excited to once again make the travel and sacrifice it takes to be a Husker Fan!  Here's to another 35 RUNZA'S getting in my belly this year! Love it!  
We have a new improved message board this year…however, it was blocked by our server here at school so I am working on getting the tweaks out of it and up and running by game day.  Speaking of gameday would like to set this up so we can post stuff during the games and get everyone's input while the action is happening.  Hang in there with me on the message board it will be good times…there is mobile option as well.
On to the good stuff…Good early banter last week, First off you have to look at the nuts and bolts of the operation before you even speak about the Football team.  I read the comments from some of you last week and where the program is and quite frankly the program is in the best shape of all time!  The professional operation these guys are running is exactly what we needed since Tom stepped down ages ago as a coach.  Riles has managed this roster down to 36 kids who have been BLOed over from the previous regime.  Next year we will finally see in year 3 Mike Riley's players and majority of them who buy in to his system not 'The Process' that never worked.
Eichorst is getting it done with donors, marketing and rebranding our school, bringing the vibe back we needed since we were pretty much duped over in the Osborne/Pelini era.  My season tickets were personalized to my name for cripes sake how sweet was that!    
The hiring of Bill Devaney was my favorite hire, we need another Cassidy in this program something the previous toilet show forgot to add, Jamrog was unqualified and just simply a Blo cronie.  Cassidy provides stability amongst the players and an avenue to the NFL.  With Eich and Cassidy these two guys alone will move us in the right direction on important behind scenes business ventures, we will have $40+ million coming in annually from our new B1G TV deal and we need the right people making this money work favorably for our beloved program.  Gundy is a genius in the player development department, Van De Reit knows what the team needs and adapts to the culture of our program.  Philipp is a great ST Coach who uses Epley when he is available…love the energy and our players are stronger than ever.  Vaughn, McShane and Wilhite truly do a great job with setting up visits and making sure everything runs well behind the scenes.  We use social media like no other!   The vision of the football program is right on pace where it should be with top 10 programs, yes we need to win and hopefully that is the only missing piece to this puzzle.
Recruiting is out-of-control!  Let's be honest the 500 mile radius is ours…Missery is a mess with no President or Chancellor, new coach, that place is a disaster, KU is KU they suck and KSucks is a dying program.  WE find some dubs and we will control the 500 pretty easy, these guys know this…What COMPLETELY separates this regime from all the rest is recruiting period!  Offers are everywhere at all grade levels, we are getting 4 star recruits they are close to getting a 5 star and this coming off a 6-7 season, really?!? C'mon boys we are in great hands moving forward.  
Can we sustain a 3-5 B1G conference record, NO.  I don't think you will see us go 3-5 in conference play but I would be very happy with 5-3.  The team is coming off a big bowl win against UCLA where we dominated from start to finish, especially on the ground.  How many wins this year?  I don't know I am going to say we go 8-4, but that might be a reach, Bad News boys…key this season is strictly on Mr. Armstrong, let's take a closer look
Team is coming off a 6-7 year and you could say most of this was on the whole team getting adjusted and I would buy that…however, we have a QB who is erratic and does not make good decisions, more risky decisions when the game is on the line.
BYU – 41 pass attempts = Loss
Miami – 40 pass attempts = Loss
Southern Miss – 35 pass attempts = Win
Illinois – 31 pass attempts = Loss
Northwestern – 45 pass attempts = Loss
Michigan State – 33 pass attempts = Win barely
Iowa – 45 pass attempts = Loss
2-5 when he throws over 30 passes…Ryker Fyfe threw 48 passes against Purdue and we lost so it does not count against Tommy Gun 2-6 then overall last year.
30 passes or below…
South Alabama – 30 pass attempts = Win
Wisconsin – 28 pass attempts = Loss
Minnesota – 26 pass attempts = Win
Rutgers – 21 pass attempts = Win
UCLA – 19 pass attempts = Win
4-1 when he throws 30 or less!
Basically Tommy is going to lead us to losses if he throws over 30 times…why?  This is not HIS style of offense and one that will suit Tanner Lee, O'Brien and Gebbia much better.  3 biggest games last year were…
Miami – We Lost! Tommy threw 45 times and was picked 3 times
Michigan State – We won on dramatics!  Tommy threw 2 INT's and 33 pass attempts
Iowa – We lost!  Tommy threw 4 INT's and 45 passes
16 INT's overall is just horrible for any QB and he tends to make the most mistakes with teams who scheme him or have better backers to defend his risky throws.  To me it is in between his ears and he is just not capable of being a system quarterback like Lee will be next year.  Making good throws to decisions is just not the consistency he possesses.    
Watch out for these crucial games Tommy must manage as I feel are the 3 big ones this year.
Oregon
Wisconsin
Iowa
OSU is not in here as I feel it is going to be a huge battle and one we are going to have to play our best game to win…Northwestern was close but we need to beat Wisconsin at Wisconsin.
Sell Sell Sell…
Tommy Armstrong and Ryker Fyfe – see above on Tommy pretty much explains my worries…now with Fyfe they say he has improved, huh noT buying it.  Tanner Lee and Tristan Gebbia vs. Tommy Armstrong and Ryker Fyfe?  Not even close and one of the reasons why we will lose games this year.
Terrell Newby 3rd down back yes, everydown back no…I think during the Oregon game we will see a steady diet of Ozigbo and Bryant not Newby
Dylan Utter is utterly horrible, how this guy is a captain and a starter is beyond me…the center position will once again be our weakness on the line, until Rairdon is ready will we see a true offense running on full steam.  DT's are going to blow Utter up on a regular basis…hopefully Decker will be ready to step in I would love to see this 6'4 280 pound specimen take over.
Dzuris and all the rest of our DE's once again will cause our secondary to suffer like it did last year, we have no rush up any gap or on the edge!  This will kill us against really good offenses and against good teams.  24 sacks last year and 22 from DL/DE…DT's are average, let's be honest unproven all around are we really going to expect Maurice to anchor us to a victory?  Really worried!  Really!    
Secondary sorry our front 4 put them here, we are average at best, Jones and Kalu are good but they are not as good as Lee and Jackson will be, Gerry is a good safety but once again is about to miss his 3rd straight game and gets lost at times.  Dismuke is going to be a head hunter and I think Aaron Williams is going to be a great safety down the road.  We need to land Holmes and I could not imagine having Lee, Jackson, Dismuke and Holmes out there…wow!  Right now we are going to be hit or miss
Bruce Read - - Losing Foltz really hurt us, he was such a great kid and punter he could place balls and get us out of many jams on a regular basis.  Brown needs to improve and Lightburn needs to be consistent, I just believe Bruce Read is non effective with the limitations on injuries with kickoffs why is this guy getting $450k to tell Westercamp to go field a fair catch punt?  Not sold on him.  I probably shouldn't whine that much we still have a Cotton on the team.  
Buy Buy Buy…
Trent Bray and the Linebackers! What this group has done to improve is bar none the best improvement last year and I expect to be the same this year, Newby has really impressed me and with Bando and Young we are in good hands there…Bray is the best LB'er coach in the nation, we are extremely deep and fast how about this group of 3 or 4 in the upcoming years…
Pernell Jefferson, Avery Roberts and Greg Simmons/Mohammed Barry = WOW!
Schedule is favorable first two games to see some improvements from our team and get off to a good start…I think in year two we have more winnable games than in 2015.  I like our road games and chances to compete except OSU where we will have our toughest battle.
Mike Riley - - let's see what he does with 65% his players on campus instead of 25% like last year, losing some of these Blo Clones has helped morale and the program erase the crap storm from previous years.
Familiarity - - I am not completely sold on Riles's in game management; however, I will chalk it up to not knowing what others were doing to us and us to them.  He knows how big the Iowa game is, how we cannot lose to Illinois ever again or Purdue for that matter, he will be better in 2016 and we will be prepared to win.
Running Game - - with this offense we can run the ball and use our running plays and personnel to win games, hopefully we will see a better balance this year and I think they will because Ozigs and Bryant can flat run the ball.
Second year - - houses are bought, relationships are growing, big time buzz around the program right now, we are rolling in all areas and I think you will see some great things this year.  Riley wants to be here and win here!
Recruiting - - we are going to end this class with many 4 star recruits and studs…I look at Iowa, Northwestern and Wiscy and we are out recruiting them big time and will continue to do so as long as Riley keeps the push going.  These guys do not take time off ever like the previous crap did from October – December and June – August.  TONS of huge visitors for the first game!
ON TO THE GAME: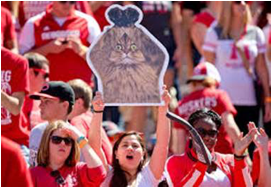 MOTIVATION BY POSITIVITY = MIKE RILEY
WEEK 1: Fresno State
Finally it is here!  Game week Fresno style…
Not going to be long here as I was pretty windy up top there…we have some injuries to overcome and suspensions with Reilly and Gerry…we will overcome and play really well in this one.
Tommy will not have to tote the load and throw less than 30 balls to win this game…look for a lot of running and growing up this o-line in the next few weeks.  Can't wait to see Lamar play and hoping the DL gets some pressure!  I am going to get choked up not seeing 27 out there Saturday!  Love this team heading into the season, trust these guys and really looking for an 8-9 win season and a 10 win season next year hopefully.  Huskers will have a 28-10 half time score and cruise to a victory…CAN'T WAIT LET'S GO!
Nebraska 45 vs. BullDogs 17…'LET ME CLEAR MY THROAT'  LET'S GO RILES!  COACH THESE BOYS TO A VICTORY ON OPENING DAY!  
WHAT SAY YOU HUSKER FAN…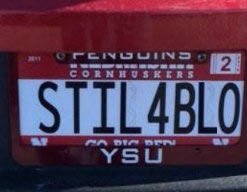 CHAD FLEMING

Great write up as usual Bragg…Agree with a lot of what you are saying and unfortunately, the Tommy take…man he scares me but I've always felt that great coaches adapt to their personnel.  That is often not an issue at the collegiate or pro level as you get to pick your personnel but in this situation where you are taking over the program, you took over a program without a PS QB.  So I hope they run the ball and run it often as your stats reflect below.
 
I'll Go Skers 42 – Fresno 14
 

I love the LB's this year, depth/healthy/playing on instinct…they have a chance to make up for a suspect DLine.  I do feel the back end of the D will be significantly improved….Sat night can't get here fast enough..GBR
DEAVER

Another great write up Bragg. 
 
I think you nailed it as I would also be absolutely thrilled with 8-9 wins this season.  Our season goes the way of Tommy.   One other factor is that if you are a praying man you can ask JC to make sure none of our games are windy….tommy is almost laughable in these games.   He is an utter mess that makes one bad play after another in these type of games.   I will be happy when there is some consistency at that position.
 
Have you seen the number of recruits in for this game?   These guys get it – it is so damn refreshing to see a group that gets after it and employs modern practices to get results. 
 
I hear Bryant is the real deal……let's hope this is true as Newby is fine against lesser teams but gets exposed rather quickly against the better teams.
 
I just want this staff to win and win a lot so we can forget the schism that has formed over the last couple decades.   We couldn't get an easier guy to root for than MR…..maybe he can bring us all back together.
 
NU 35  

Fresno 14
CARR

Write up = outstanding as usual Bragger.

Concerns for the season:
TA as our QB.  Almost a lock for him to cost us 2-3 games with his erratic QB play.  Too bad Lee isn't eligible this season.  There is a reason TA wasn't named a captain.
DE's.  One should be a backup and the other should be 3rd or 4th string.  Need playmakers there badly.
OL health.  Love the comments about them in camp but their inexperience and lack of depth is worrisome.  Losing Foster hurt BAD.  If they can stay healthy I think as the season goes, they could really develop into a solid unit.
Leftover Blobot players……..see last year as an example how that can play into an awful season.
The bad breaks we seems to be a magnet for.

Reasons for optimism:
Head Freakin' Coach Mike Riley!!!!  Any husker fan who still misses Blo, the glorious 9 win season AND  embarrassing 4 loses each year clearly doesn't' get it.  We now have a true leader that hopefully all can rally around.
Year 2 jump.  A lot of learning has taken place since last year across the board, hope we can see the dividends this season.
Recruiting!!!!!!  But, but, but, but you can't recruit to NE.   You bet you can't when you take months off at a time in the summer, spend recruiting money on coke and hookers, put ross els in charge of recruiting, etc.  This staff makes no excuses and can AND will do anything and everything to recruit top talent.  See this weekend = WHOA!
The entire football staff, top to bottom.  Love the staff and how they work together.  I don't think I've seen any of them screaming at each other in practice or games either.     Need to find a way to keep Tavita Thompson on as TE coach after this year.  
NO toxic environment.

Hopefully all can come together and this season turns into the one that awoke THE BIG RED and got the machine rolling again!
I'm no Blobot,

42-23 The Nebraska Cornhuskers
SCOTT FLEMING

I echo many of the thoughts from everyone, especially regarding Touchdown Tommy and how his unpredictable play makes it so hard to get a feel on the season.  He looked so good and so damn incompetent at times last year.  For the love of everything, please incorporate the UCLA game plan into EVERY game this year.  If I have to watch Chad kick, scream, MF, and have meltdowns every Saturday this year while Tommy throws the ball off his back foot 35 times a game I'm not sure I will make it through the season. 
 
I love the progress on the recruiting front, the general "feel" surrounding the direction of the program, etc. 
 
I will go Huskers comfortably on opening night although I think our defense looks a little shaky. 
 
Skers 49

Fresno 23
GRAFTON

"...... please incorporate the UCLA game plan into EVERY game this year."  Yes, please.

NU:38

Fresno: 24

---
Permissions in this forum:
You
cannot
reply to topics in this forum